Every company faces the challenge of telling their story—one that resonates with their teams and customers. Up to now, what's limited us hasn't been the quality of our services or the value we deliver—it was our ability to communicate that value meaningfully. We've been so busy working to serve customers and grow our business that we forgot to be purposeful storytellers; to remember our humble beginnings and stake our claim for the type of company we want to become. When we took time to look deeply within MMC, our vision values and story became clear.
What has become vividly clear to us is that our mobile unit/team leader and crew are our most powerful catalyst for creating customer value. They are our frontline employees; our brand ambassadors who rise early and work hard every day to deliver our customer promise of quality, attention to detail and a job well done. They are the heart of our story
We Can't Write Our Story Without Winning Hearts
With our mobile unit/team leader and crew at the heart of our story, becoming a thriving industry leader starts by knowing – and living – our "why" as a business. And our "why" is to be a workplace that cultivates excellence in our People, Customers, and Community. A workplace that gives our People an opportunity to build a great living through hard work and initiative.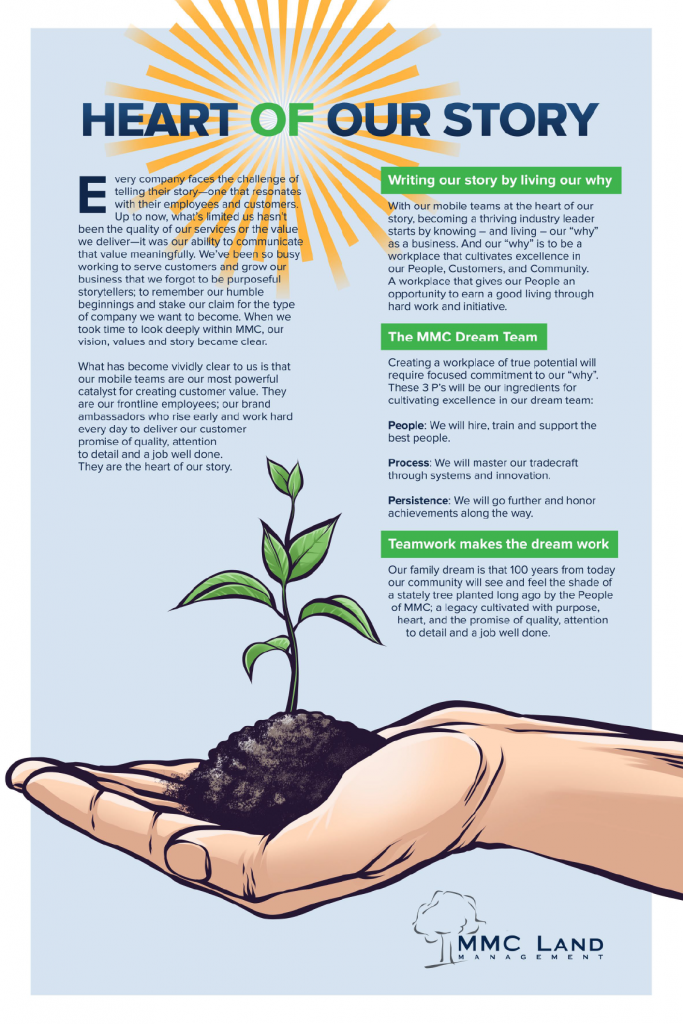 Teamwork Makes the Dream Work 
Our family dream is that 100 years from today our community will see and feel the shade  of a stately tree planted long ago by the People of MMC; a legacy cultivated by purpose,  heart, and the promise of quality, attention to detail and a job well done.
Who + How = The MMC Dream Team
Our people are the who. And the ways we deliver superb services is the how.  To create a workplace of true potential will require focused commitment to our "why".  Moving forward, these 3Ps will be our ingredients for cultivating excellence:
1) People: We will hire, train and support the best people.
2) Process: We will master our tradecraft through systems and innovation.
3) Persistence: We will go further and honor achievements along the way.
At MMC Land Management, our mission is to consistently deliver the absolute best landscaping, erosion control and snow removal services in our markets. We strive to always exceed our customers' expectations by creating land management plans that meet both their visual and budgetary expectations through excellent communication, workmanship and customer management